RAM Motor parts nummer 4
Emounting verkoopt 3 versies motor balhoofdsteunen. Verschillend in klaar voor gebruik of zelf op maat maken.
RAM Mounts Balhoofdsteun zelf op maat maken
Met de bekende balhoofd bevestiging van RAM Mount is het mogelijk om een navigatiesysteem, smartphone of camera centraal op de motor te bevestigen. Met behulp van een zelf op maat te maken rubberen pin kunt u deze mount monteren in de holte van uw balhoofd (diameter range 12-20 mm en 28 mm).
RAM Mounts HD Balhoofdsteun op balhoofdmaat, klaar voor montage
De RAM Mount Stem Mount HD balhoofdsteun hoeft niet meer op maat gemaakt te worden en is in enkele seconden geïnstalleerd.
Ultimate Addons Balhoofdsteun klaar voor montage
Aluminium balhoofdbevestiging van Ultimate Addons uitgerust met 25 mm (1" B-kogel) en diverse maten aluminium pin (4 versies). Dus ook snel gemonteerd omdat ze op de juiste maat geleverd worden.
Anders als de RAM Mount steunen met rubberen kogels zijn deze kogels van hard kunststof gemaakt, waardoor de demping van trillingen minder is.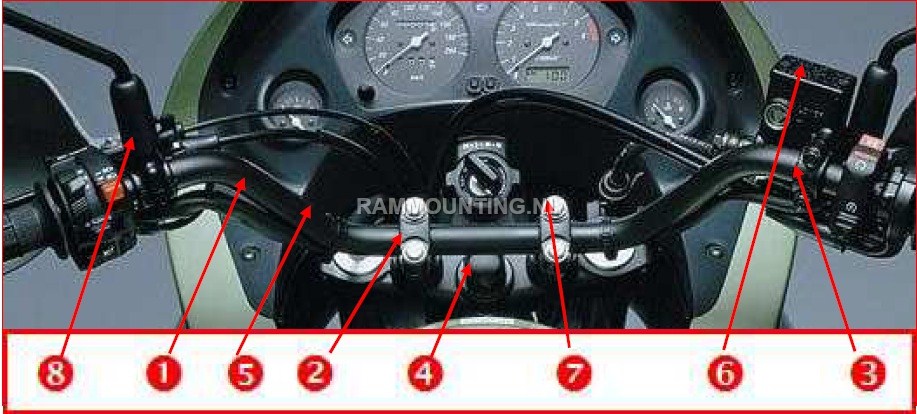 Kroonplaat, balhoofdsteun
Rubberen B-kogel dempt trillingen.

Complete RAM motor catalogus online.