RAM Mount
Tough-Pole™ Action Camera Mount met Track Base (double pipe)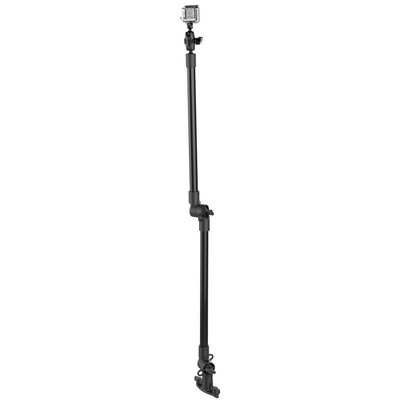 RAP-422-18-18-A-GOP1
Beschikbaarheid:

Niet op voorraad

Levertijd:

In bestelling bij leverancier
Super hoge Tough-Pole™ Action Camera Mount met Track Base RAP-422-18-18-A-GOP1 ...
Meer informatie
Product omschrijving
Merk:

RAM Mount

EAN:

0793442955013

Artikelnummer:

RAP-422-18-18-A-GOP1

Beschikbaarheid:

Niet op voorraad

Levertijd:

In bestelling bij leverancier
Het perfecte shot maakt u met deze set waarop uw GoPro is gemonteerd op tweemaal een 45 cm lange PVC Tough-Pole vastgezet op een RAM Tough-Track (exclusief). Maximaal flexibel instelbaar in elke hoek dankzij de twee instelbare koppelingen.

Tough-Pole lengte is 45 cm per stuk, totale lengte is 120 cm.

B-kogel met koppeling aan de GoPro adapter.
Compatible GoPro® Cameras:
HD HERO
HD HERO2
HD HERO3
HD HERO4 (Black/session/ Silver)
HD HERO 960
Garmin VIRB X & VIRB XE
SJCAM SJ4000
SJCAM SJ5000X Elite 4K
Muvi veho K-Series K-2 Pro 4K
Xcel 1080C
Vivitar HD
ACTIVEON CX Gold
Discovery Kids Photo & Video Adventure Camera
Kyocera / Yashica YAC-400
AEE ACE S70 Black 16MP 2"
AKASO EK7000 4K WIFI Sports
AEDILYS 4K WIFI Sports
Lightdow LD4000 1080P HD
WiMiUS Q2 Black 1080P Wifi
Vtin 4k
Vtin WiFi


Get the perfect shot from your action camera when you're out on the water with this Adjustable Track Mount kit. The kit includes two 18" Extension Poles (overall mount length 48"), making it an ideal solution for the rear of your kayak, while the Ratchet Attachment provides your action camera with various adjustment angles. Any action camera with a two-pronged attachment – including GoPro – will work with the RAM Action Camera Adapter, and the Track Base is compatible with the RAM Tough-Track™.